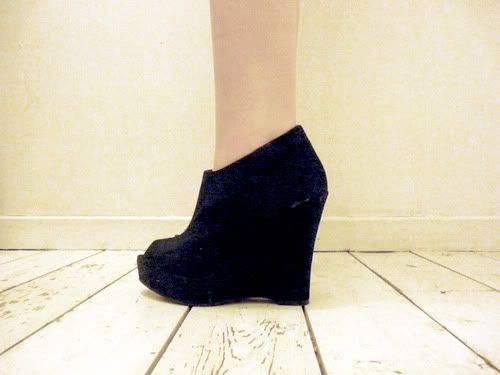 Meet the new love of my life - my black suede peep toe wedges!
This is the first pair of wedges I have ever worn and I don't think I'll ever buy a pair of heels again. They're that good! I'm notoriously bad at walking in heels but when shoe shopping I am drawn to the highest pair of heels in the shop, the ones with the huge platforms and the little flimsy ankle supports. I've tried practicing walking in them before wearing them out, I've tried walking slowly and really concentrating and I've even tried just going for it and not thinking about it but despite my best efforts I've fell over so many times whilst wearing heels that it's a miracle I've not broken any bones. But with wedges? You get the height, you get the long legs and most importantly, you can walk in them and still be standing without any pain at the end of the night. What's not to love?
And it doesn't stop there. They were also an absolute bargain. Labelled as £24.99 I was impressed but when they scanned through at £19.99 and then were reduced even further, to just £17.99 I couldn't believe it! If only they had more colours and I would have snapped them all up!